The Best Rapper Alive, Every Year Since 1979
The rapper who stole each year, from the first year of recorded hip-hop until now.
CREDENTIALS: The Low End Theory, "Groove Is in the Heart," "Don't Curse," "A Roller Skating Jam Named 'Saturdays,'" "Come on Down"
It had been clear from his first verses on the Jungle Brothers debut in 1988 that Q-Tip had a remarkable, unique voice, and important things to say. But two years later, on A Tribe Called Quest's admittedly awesome debut, People's Instinctive Travels and the Paths of Rhythm, the outfit's offbeat attire and quirky ("I Left My Wallet in El Segundo") to occasionally goofy ("Ham and Eggs") subject matter obscured the acknowledgement of Tip's lyrical prowess.
That all changed in 1991, though. Stripped of the costumes, ATCQ's sober (in sound, if not in creation) sophomore effort, The Low End Theory, thrust Q-Tip to the epicenter of hip-hop. He slowed down the BPMs and introduced the jazz, funk, and soul loops that would define East Coast hip-hop until the Puffy era. He complemented these more delicate grooves with clean, loud, and exquisitely differentiated engineering courtesy of Bob Power that turned even Dr. Dre's head, who admitted years later that he competitively studied the sonics of TLET while crafting The Chronic. A-B test TLET against De La Soul Is Dead, or any other contemporary release, at the same volume to hear the difference.
But far and away, the most impressive part of The Low End Theory was Q-Tip's rapping. Where he had swung in the pocket, moving with the music on the first album, Tip now made strong declarative statements ("Back in the days when I was a teenager / Before I had status and before I had a pager...") to create competing, complementary rhythms. And he did it while conjuring thoughtful word pictures ("You could find the Abstract listening to hip-hop / My pops used to say, it reminded him of be-bop / I said, 'well daddy don't you know that things go in cycles / The way that Bobby Brown is just ampin like Michael'"), using subtle, poetic strokes, that articulated his life and point of view as a 21-year-old emerging star.
The ground he broke lyrically—with timeless phrases like "Industry Rule #4080"—and rhythmically—with the introduction of the mislabeled "the Big Sean 'Supa Dupa' flow ("Minds get flooded, ejaculation")—has inspired everyone from Nas to Kanye West to Drake. Neither a tough guy nor a sucker, Q-Tip's confident delivery, genuine sentiment, and undeniable musicianship could not be denied by intellectuals or gangstas, leading to countless guest appearances and beat placements. And this appeal was not lost on him, either, as he broke it down quite simply on "Verses From The Abstract:" "Women dig the voice, brothers dig the lyrics / Quest the people's choice, we driving for the spirit." Universal adulation in hip-hop is practically an oxymoron, but in 1991 Q-Tip enjoyed an embrace that almost no other rapper has, before or since.

HONORABLE MENTIONS: Scarface, Treach, Dres
The Geto Boys had been Southern flag bearers for years, but in 1991 Scarface thrust himself to the front of the conversation, releasing both the GB's classic We Can't Be Stopped and his solo debut, Mr. Scarface. Songs like WCBS's defining masterpiece "Mind Playing Tricks on Me" and Mr. Scarface's title track made it abundantly clear that 'Face had more than just tough talk and gangsta tales to offer: He had concepts and stories. But yeah, he'd punch you in the fucking mouth, too.
Meanwhile, in New Jersey, Treach set trends with Naughty by Nature's debut. The braided MC flipped syllables at rapid-fire pace and put pop polish on the jibberish Jaz-O and Jay Z had been spitting. A style icon, Treach also set aesthetic trends, and weaned hip-hop off of Kane's snappy suits to more utilitarian work wear and jerseys.
And though his acclaim would be short-lived, Astoria, Queens, rapper Dres demonstrated able lyricism and a hilarious sense of humor on Black Sheep's October '91 debut, A Wolf in Sheep's Clothing. Coming from an everyman perspective, not unlike his fellow Native Tongue-er Q-Tip, Dres made up for his lack of hardcore credentials with nimble rapping and gut-busting jokes about his (apparently) legendary swordsman status. —Noah Callahan-Bever
Nas, Nas, Nas was not the king of disco, despite what the "It Ain't Hard to Tell" remix would have you believe. But he was a king, the king of rap. In 1994, at the age of 19, Nasty Nasir Jones would ascend the throne with the April release of Illmatic, his debut LP. A raw talent, one of the first to make a name on guest appearances, Nas' shocking, borderline horrorcore (before horrorcore existed) raps of the early '90s created an enormous buzz for the Queensbridge MC.
But those wicked raps only scratched the surface of what was to come. Dense yet melodic, wrought yet nonchalant, the rhymes on Illmatic represented the confluence of the last seven years of rap innovation. He was a child of '88. From Rakim's aloof thoughtfulness to Kane's multi-syllabic juggling to Kool G Rap's corner-drug-dealing realism to the educated militancy of Chuck D, even the gripping narrative skills of Slick Rick—Nas had it all. And he had it all quietly. Nothing about Illmatic was labored.
Brief but effective, the LP showcased this range efficiently, with nary a heavy-handed or telegraphed moment. Songs like "N.Y. State of Mind" and "Life's a Bitch" demonstrated his ability to string the almost rambling moments of his internal monologue into ornate tapestries of reflection. On other tracks, like "Memory Lane" and "One Love," he explored more linear storytelling but with a degree of nuance and subtext that had not been achieved in hip-hop previously. And he married both on songs like "One Time 4 Your Mind" and "Represent,"slipping effortlessly from first-person narrative to meandering thoughts.
Having said all of that, though, one cannot discount the importance of The Source on Nas' ascendancy. A handful of other albums had earned the distinction of 5 Mics previously, but at a time when the magazine was still growing. Illmatic's anointment as a "classic" came as the mag reached maturity as an editorial product and ubiquity as a publication.
As a result, like when Lil Wayne declared himself better than Jay Z, that perfect rating (especially in the face of, say, The Chronic receiving only 4.5 Mics) sparked a national debate around Nas' excellence. But as time passed, and the album's layers were pulled apart, absorbed, and appreciated, the young king's legitimacy was cemented. Accolades aside, in 1994, if you wielded a mic, Nas was indeed the musician, inflicting composition.

HONORABLE MENTIONS: The Notorious B.I.G., Scarface, Redman
It would be a lie to say that by the end of 1994, Biggie's meteoric success didn't take a lot of the wind out of Nas' sails. And sales. But Big's burn was a slow one that didn't reach a fever pitch until Q4. He rode into '94 on a string of guest spots with the likes of Mary J. Blige and Supercat, but things changed during that summer.
With Nas conspicuously quiet on the radio, Big filled the void with jam after jam ("Flava in Ya Ear" remix followed by "Unbelievable" followed by "Juicy" followed by "Da B Side" with Da Brat). Still, when Ready to Die dropped, despite its unimpeachable quality and ability to connect far beyond Illmatic's Tri-state acclaim, it did not catapult Big, lyrically, to the front of the pack. But it did position him to jockey for the top spot the following year.
1994 was a huge year for Scarface because The Diary proved not only his staying power, but also his ability to transition from the uptempo East Coast-ish production of the early '90s to the slow, whiny G-Funk era. And that he could do it gracefully, telling the same kinds of dark stories (see: "Hand on the Dead Body," "Jesse James") as in the Geto Boys' glory days.
Also slowing things down, and daring to tread on the dark side, was Redman, who stomped ruggedly through 1994 making it abundantly clear that his blunted funk still made sense in a post-Chronic, post-36 Chambers world. —Noah Callahan-Bever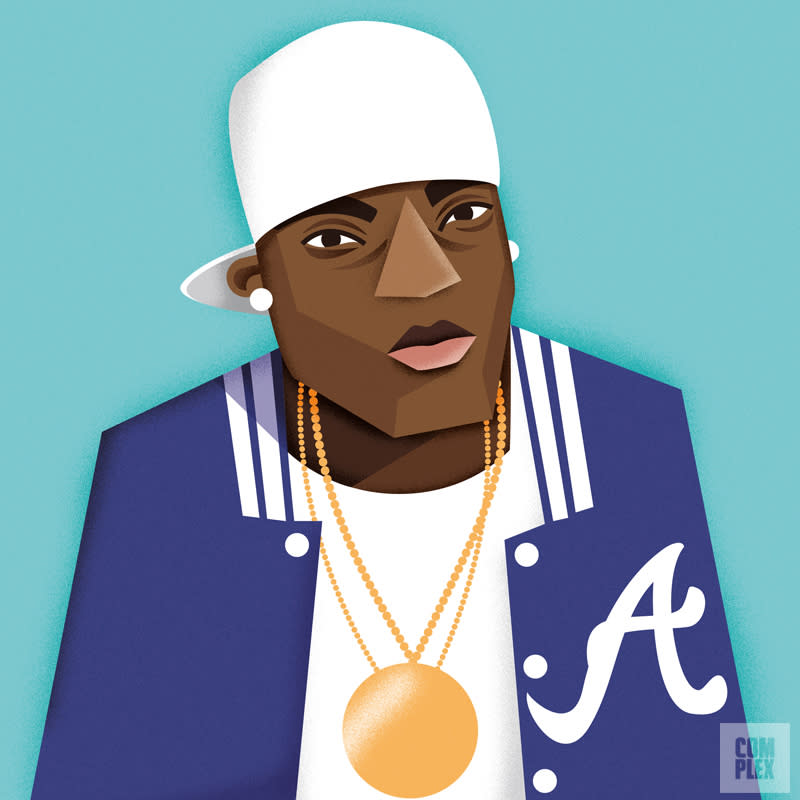 CREDENTIALS: Let's Get It: Thug Motivation 101, Trap or Die, Boyz n da Hood
In 2004, Jeezy first made an impact outside of his native Atlanta, grabbing guest spots on songs by Fabolous and Trick Daddy, releasing his Tha Streets Iz Watchin mixtape, and dropping a video with Bun B titled "Over Here," which prominently advertised—at least to those in the know—his Big Meech affiliation. But the following year, Jeezy took off, beginning with the growing buzz around his Trap or Die mixtape.
He first broke nationally on Gucci Mane's "Icy" single, which, that same year, would become a source of conflict for both rappers. "Icy" was a smash, and Jeezy's first true hit, even if Gucci denied him use of it for his Def Jam debut. At the time, Jeezy was especially invested in obtaining the single; his appeal had been grounded in distinctive ad-libs and a searing vocal style, one that seemed more concerned with blunt, overwhelming force, rather than the dexterity or diversity of previous Atlanta stars like T.I. More to the point, he didn't have a certified hit.
Jeezy shouldn't have worried. 2005 marked the moment he crossed over completely, becoming one of the genre's biggest stars. He not only held his own but served as the charismatic center of Atlanta supergroup Boyz N Da Hood's debut LP. The record featured the group's biggest single, "Dem Boys," with a high-profile endorsement from P. Diddy. Jeezy would be the group's only breakout star.
As his Trap or Die mixtape continued to gain steam nationally, his debut LP, Let's Get It: Thug Motivation 101, was released. Significantly, the album introduced the world to the trap house sound of Shawty Redd, whose shards of synthesizers were a revolutionary brittle reinvention of hip-hop's soundscape. It marked the end of hip-hop's biggest crossover era, as populist gangster rap adapted a more underground, oppositional sonic template, rather than the pop-friendly sounds it had adopted in the TRL era.
The album launched four charting singles, including "Soul Survivor," which reached No. 4 on the Hot 100 and pushed Atlanta's new brittle trap house sound onto the national stage. Even his soul-sampling "Go Crazy" broke through on the East Coast; the rapper managed to summon Jay Z and Fat Joe for verses on the remix. Young Jeezy's totalitarian vision engulfed the country from the grassroots to the top.

HONORABLE MENTIONS: 50 Cent, Game, Common
50 Cent, meanwhile, released The Massacre, a commercial success but something of a critical disappointment. Songs like "Candy Shop" became massive crossover hits—at the expense of much of the support of his traditional hip-hop audience, who were relegated to enjoying album tracks like "Baltimore Love Thing" and "Ski Mask Way." Nonetheless, these were incredible songs. In '05, 50 was also responsible for some of the best tracks in his career, albeit under someone else's name.
The Game's debut, The Documentary, put him even more firmly in the conversation. The LP ultimately went double platinum after selling 586,000 copies in its opening week. "How We Do,"released in late November the previous year, continued to gain airplay, and the album's third single, "Hate It or Love It," was an even bigger success. Game's success, though, was split with 50 Cent, who was a major part of both singles; ironically, Game ended up with the stronger release, but 50 had scene-stealing verses (and hooks) on the album's biggest singles.
Common, meanwhile, released one of the best records of his career in Be, a major creative and unexpected commercial success. The rapper was signed to Kanye's G.O.O.D. Music label the previous year and appeared on The College Dropout. Produced primarily by Kanye West with an assist from the recently deceased J. Dilla, Common's Be received 4.5 mics in The Source and an XXL rating from XXL. It also became the rapper's second gold album, selling around 800,000 units. —David Drake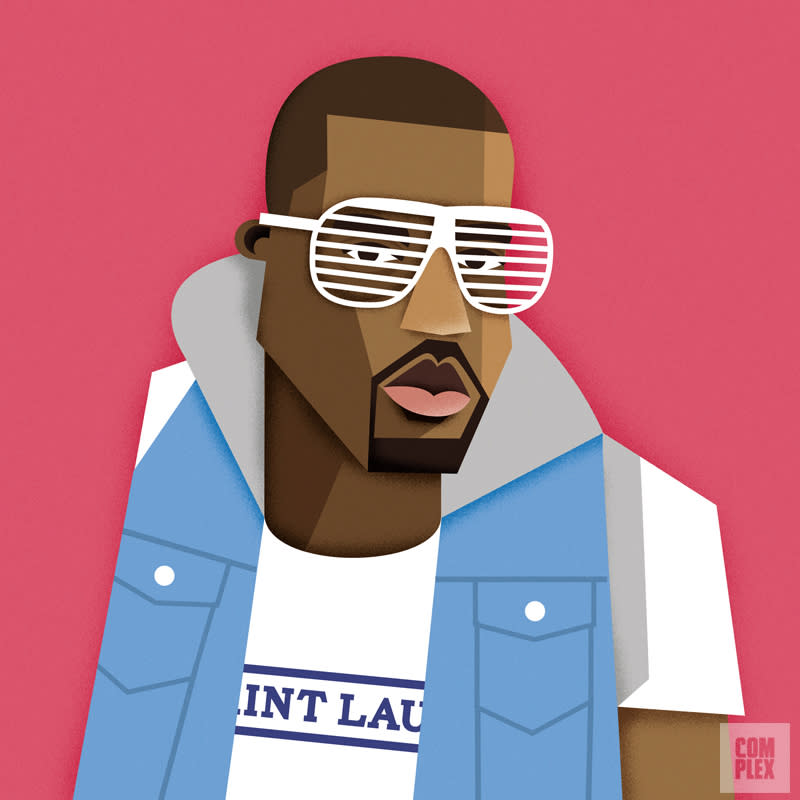 CREDENTIALS: Graduation, beats 50 Cent in highly publicized sales battle, drops several huge hits, "Can't Tell Me Nothing," "Stronger," "Good Life," and "Homecoming"
Kanye West's career had been building toward this moment all along. By 2007, the stars had aligned and Yeezy became the epicenter of hip-hop, both sonically and artistically. Despite releasing two stellar albums in 2004 and 2005, he was seen as a great producer and great songmaker but never a great MC. During the years when the rap zeitgeist was playing limbo with coke rappers, mixtape runs, and ringtone rap, Yeezy raised the bar up and got his bars up.
His humor was still present as he spit the most Kanye line ever: "I'm like the fly Malcolm X, buy any jeans necessary." The real change was in Yeezy's now fluent delivery. No longer did he flub verses with over exposition. Whatever his words lacked in humility they made up for in maturity. His vocal performance was now poised and patient, characteristics best seen on cuts like "Flashing Lights," where he employed a delicate nuance to his rhymes where a younger Kanye might have gone for a ham-fisted approach.
Beyond his flow, 'Ye dropped his best songs ever, "Can't Tell Me Nothing," and finally found what he always sorely lacked: a true street anthem. With "Stronger," Yeezy scored arguably his biggest hit ever, another testament to his crossover appeal (and made Yeezy an early adapter to EDM).
Still, it felt like this was happening right under our noses. When Kanye got into a highly publicized sales battle with 50 Cent, many believed he stood no chance against Curtis. Little did they realize 50's antics were starting to feel like an old Biggie line: "Fuck that beef shit, that shit is played out." If you didn't initially feel the winds of change, then you got hit with the whirlwind of Graduation.
The album outsold 50's Curtis by a wide margin and not only proved Kanye was a cultural force but one who wasn't willing to settle. The guy that executives once told to stick to producing was now the Best Rapper Alive. Kanye must have realized it, too. As much as people think Kanye is obsessed with himself, in truth he's always been obsessed with challenging himself. That might have something to do with why, as soon as people finally accepted his rapping, he abandoned it to move on to singing.

HONORABLE MENTIONS: Lil Wayne, Jay Z, André 3000
There was one incredibly frustrating thing about Graduation though: the Lil Wayne-assisted "Barry Bonds." Not because it was a bad song but because Kanye outrapped the previous Best Rapper Alive so badly it felt like Wayne took a dive. We only say that because otherwise Weezy killed it in '07, releasing about 100 songs.
The easy put down would have been "it was quantity over quality," but that's the thing about Wayne in his prime: Nearly everything he did was quality. There was always one random line or burst of flow that was worth hearing. The highlight was his spectacular double disc mixtape Da Drought 3, which found Wayne blacking out over one instrumental after another. The most significant cut was "Dough Is What I Got," which had him rapping over Jay Z's lackluster "Show Me What You Got." The song finally proved the claims Wayne had made in Complex the previous year: "I"m better than Jay Z."
Jay Z was having a resurgence of sorts as well. After seemingly losing a step after retiring and coming back with the disappointing Kingdom Come, Jay got inspired by the film American Gangster and dropped an album of the same name. He wasn't rapping about anything he hadn't rapped about 10 years before, but the fact that he found yet another way to say something we'd already heard and make it compelling remains one of his most under-appreciated achievements.
A slightly disappointing (in hindsight) event was the return of André 3000. 3 Stacks' comeback—highlighted by a series of memorable guest verses—was ultimately a tease for a solo project that never materialized. Still, you couldn't shake the feeling that every time he dropped a verse it became the most talked about 16 of any given moment. —Insanul Ahmed
Can we get much higher? In 2010, Kanye West made a triumphant return to rapping full time. Lost in the hype of his post-Swiftgate comeback was the fact that Kanye wasn't just the best rapper alive but also the best rapper he's ever been. Yeezy reached the height of his technical proficiency. Gone were the pesky lapses of supreme competency where he uttered "Funny when you thought of them but only to you" type lines. Instead it was all genuine wit with rhymes like "Got caught with 30 rocks the cop looked like Alec Baldwin."
Instead of imploding within the glass house of his fame (as many thought he would/already had) he furnished his persona with even more honesty and soul-searching to create one of the most vivid portraits of superstardom rap had ever seen. Ye's G.O.O.D. Friday releases kept him consistently anticipated week to week, and when My Beautiful Dark Twisted Fantasy finally did arrive it was hailed as an instant classic and arguably Kanye's best album.

HONORABLE MENTIONS: Rick Ross, Nicki Minaj, Eminem
Ironically, despite rapping at a higher level throughout the year, the two best verses on My Beautiful Dark Twisted Fantasy weren't from Kanye. Instead, he was able to coax inspired performances from Nicki Minaj and Rick Ross, the latter of whom saw his growth as a rapper reach its apex on "Devil in a New Dress." Ross was never perceived as a great lyricist until Deeper Than Rap won him the award for Most Improved Rapper. But the nearly flawless Teflon Don—supercharged with the street anthem of the year "B.M.F."—saw Rozay's once sluggish elocution evolve into a fluid dynamo. The guy who was once clowned for rhyming "Atlantic" with "Atlantic" was suddenly keeping multis on deck with lines like, "Young and radical, methods are mathematical/I multiplied my money through different avenues."
Yet, the verse of the year belonged to Nicki Minaj, whose manic energy on "Monster" took her from buzzing to being invited on stage with Jay Z and Kanye West at Yankee Stadium. Chilling backstage while Jay, 'Ye, and Nicki performed "Monster," a rejuvenated Eminem was returning to the forefront of the rap conversation after kicking his drug habit, abandoning the accents, and dropping the well received Recovery. —Insanul Ahmed
via Complex.
---